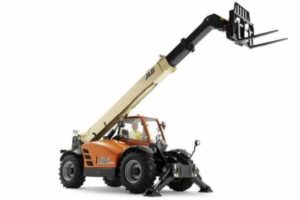 Telehandlers are a great fit for high bay and high rise work sites where a work platform is required to carry out tasks such as roofing and siding. Able to handle a wide range of weight, these machines are at home on any type of terrain thanks to their frame leveling system, 4-wheel drive, and steering.
The large number of compatible attachments available make them a veritable multi-tool carrier for real support on all of the various sites they are used for. Being equipped with a low frame steel door to limit the risk of breakage, visibility is by no means affected to help you further reduce the risk of accidents occurring during handling operation.
Training is required to operate this machine.
Safety materials required:
Technical Data
Performances